After leaving Seattle and heading north, following the east side of Vancouver Island, the crew of the Eagle 40 trawler, Mischief — my partner Karen and I — had cleared the first hurdles of our ocean-side transit of the wild west coast. We were proud to have explored and enjoyed our passages around Cape Scott and the Brooks Peninsula. As we continued south, we would complete the circumnavigation we'd been dreaming of for years. Next stop, the Bunsby Islands.
The Bunsbys are a small group of islands off the coast that were the initial site of sea otter reintroduction to the west coast in 1972. The undeniably cute, furry critters are now found as far away as mainland British Columbia and even Puget Sound. After an easy 9 miles from Columbia Cove, we anchored in a cozy spot called West Nook, inflated the kayak and went exploring. Immediately, sealife abounded. We watched sea otters lounging in the kelp, humpback whales feeding in the passages, and lots of seabirds — gulls, terns, guillemots, murrelets, osprey, and more. Back at the boat, as we prepared the dinghy to explore the nearby shore, we noticed the beach was already occupied — a black bear had beaten us to it and was busy turning over rocks. So we changed our minds and stayed home, instead planning for the next day's short hop to Kyuquot Sound.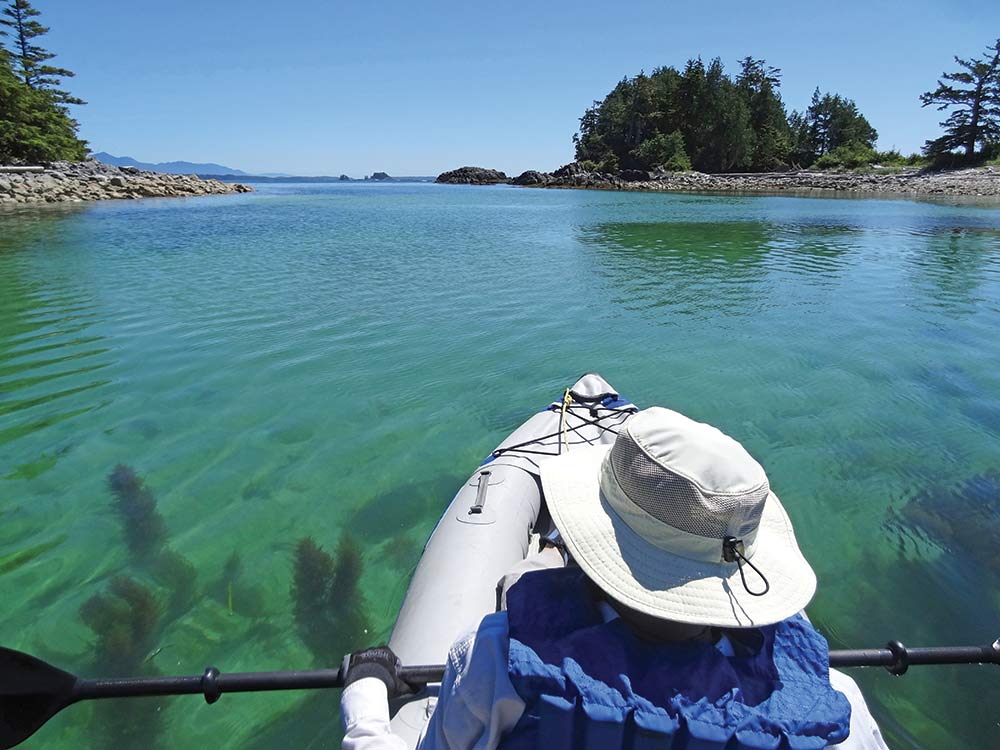 Our first stop in Kyuquot Sound was Walters Cove just inside its entrance, which has a small community with no road access. The cove itself has a complicated approach, thankfully well marked with buoys and beacons. Walters has a large community dock, a pretty good store, and a nice little restaurant/coffee shop called Java the Hutt where we spent a couple of hours relaxing with their free WiFi. It was time to catch up with home.
From there, we headed for Dixie Cove Provincial Marine Park, an almost totally landlocked cove with beautiful turquoise 70-degree water. The incredible location and the warm, sunny day definitely called for a swim. Karen jumped in while I put on my wetsuit. We spent two days here then left to explore more of the inlets and anchorages of Kyuquot Sound; the weather continued to be beautiful.
Rugged Point is on the edge of the ocean but has a nice, protected nook on the inside of the point with a short hike to a beach on the outside. It was sunny where we anchored but in the quarter mile or so to the beach, the conditions changed to cool, wet fog. After exploring for a while, we walked back and moved the boat to a more sheltered cove nearby. Named Petroglyph Cove in our guide book and Blue Lips Cove on the chart, it was a lovely, scenic anchorage with only one downside… no VHF reception.
Leaving Kyuquot Sound turned out to be our most exciting passage on the west side of the island. The day dawned crystal clear with a slight breeze — perfect, or so I thought. But since there was no VHF reception in our anchorage, we had to go by feel, without a weather report. At the entrance to the sound, it was calm and we opted to go for it. As we worked our way offshore to the 120 foot line on the chart, chosen to ensure we would be well away from any coastal hazards, we realized the swell was much larger than expected, 6 to 10 feet as we later learned. But once we turned south for Nootka, the next sound, it was all coming from behind us and was almost fun in the beautiful sunshine. If we had heard the forecast, we probably would have stayed where we were, but we were never in danger and had a positive learning experience in ocean waves.
Near the middle of the island, Nootka Sound is the largest of the five sounds, and is dominated by Nootka Island in its entrance with inlets radiating off in different directions. We started our exploration right at its entrance with Nuchatlitz Provincial Park. The entrance winds its way between islets and hidden reefs and, even though it is marked by buoys at key spots, we were still grateful we had a chartplotter. Inside is a large bay with room for many boats, though we were the only one, which is separated from the ocean only by a plethora of low islands, reefs and sandbars. At high tide, many of them are under water and some swell enters, with the sound of the surf being ever present. The effect was enhanced by the fog which is common along the coast.
From Nuchatlitz, we headed up Zeballos Inlet, because it is particularly scenic as it reaches into a more mountainous region of Vancouver Island. With its high, steep, and rocky sides, it reminded me of some of the mainland BC inlets. At its head is the tiny village of Zeballos, a former mining community with a public dock. While there were only limited supplies available there, it did provide a wonderful opportunity to stretch our legs with another hike, this time on a boardwalk along the Zeballos River, where we saw lots of bird life.
Leaving Zeballos, we continued circling Nootka Island and sighted a large raft of sea otters slowly paddling along. It was quite the sight to see so many otters — an animal that was once extinct along this coast. We went up another inlet to the town of Tahsis where things were hopping! There was a salmon tournament going on and everyone was back in port weighing their fish. It was the busiest place we had been since we left Port McNeill three weeks prior.
Nootka Sound has a fabled history. It was the center of exploration and trade by the late 18th century Spanish and English explorers with names like Quadra and Vancouver, and First Nations chiefs like Maquinna. Their traditional meeting place was near Friendly Cove, located at the southeast corner of Nootka Island. Friendly Cove is now a First Nations community with one of the few manned lightstations on the coast. Visiting with the light keepers and the Friendly Cove hosts was a highlight of our trip. We especially enjoyed visiting the Catholic Church, which surely must be unique, filled as it is with carvings from First Nations beliefs. Like other coastal villages north of it, Friendly Cove is a thriving, vibrant community that has no road going to it. Of course, everyone has a boat.
We continued exploring Nootka Sound by heading to Bligh Island (yes, that Bligh.) The anchorage is at the head of narrow Ewin Inlet, which actually faces the ocean. I thought there might be some sense of the ocean in the cove but all swell and ocean winds were long gone by the time they reached the head. It was a lovely spot.
The weather in Nootka Sound had been mostly mild and sunny with little fog away from the coast; but now we had to plan our journey out into the ocean once more, around our next major west coast challenge, Estevan Point, and on to the next cruising destination, Clayoquot Sound. By this stage in our journey, I was worried a bit less about seasickness and a bit more about the time. We had already used five-and-a-half weeks of our eight-week vacation and we were only down to the middle of the west coast.
We had calm, though rainy, weather while rounding Estevan Point and stayed well offshore. The third major challenge of the Van Isle coast was now behind us and our reward was a visit to Hot Springs Cove, located in a small inlet at the north entrance to Clayoquot Sound. This has to be one of the most popular attractions on this side of the island. We anchored in the cove with a number of other boats, including old friends we had seen before, and watched a seemingly endless stream of tour boats and float planes, mostly coming from Tofino, drop people at the dock for the one mile boardwalk trek to the hot springs, then pick them up again in an hour or two to head back to their starting point. We waited until after dinner for the crowds to leave and our reward was having the hot waterfalls and pools almost to ourselves. I especially liked the hot/cold pool with sea water coming in on every high wave, all with views of the ocean.
The first float plane arrived at 8:30 a.m. so we gave up on Hot Springs Cove and started our exploration of Clayoquot with Sydney Inlet where basking sharks have been reported. As we headed up the inlet Karen spotted one in the distance. We watched it for a while through binoculars as we continued up the inlet and, on our return an hour later, we were surprised to see it again, in much the same place as before. On closer inspection, we found it was actually a floating log with a fin-shaped branch sticking up. We will definitely be looking out for more "basking logs" in the future.
One of the large islands in Clayoquot Sound is Flores Island, with narrow Matilda Inlet cutting in its eastern shore. In the middle of the inlet, on its west side, is a small collection of buildings and a long dock that makes up the community of Ahousaht. We stopped at the dock to check it out and talk with the local proprietor. A bit farther is a side inlet that houses a major First Nations settlement, Marktosis. At the head of Matilda, our destination all along was a small bay with a hiking trail out to Whitesand Cove on the ocean. The mile-long hike was lovely except for the skies, which were solidly gray over the ocean.
At the south entrance of Clayoquot Sound is the town of Tofino, which is connected to Victoria by a paved road and is a substantial population center and major tourist destination. It is also very busy on the water. We wanted to stop but couldn't find any dock space, and there was no obvious place to anchor nearby, so we decided to pass it by and continued on to Barkley Sound.
Barkley Sound is the southernmost sound and at its northern entrance is the town of Ucluelet. Like Tofino, Ucluelet is a tourist town, and much like tourist towns everywhere, it is welcoming but busy. It even has a small aquarium, which is where we finally identified the By-the-wind sailors we had marveled at throughout our cruise. We liked Ucluelet and stayed two days in the well protected marina. In addition to the expected restaurants and shopping (including a surf shop), there are a number of spectacular hiking trails along the coast, including one out to the lighthouse at Amphitrite Point.
We enjoyed our stint in civilization but, after a couple of days, wanted to head out into Barkley Sound to Pipestem Inlet. Other than signs of past clear cutting, Pipestem was lovely and remote. We piloted Mischief from the flybridge to maximize the view and while most of Pipestem is deep, the delta at its head has a narrow band of shallower water where it was possible to anchor. It was a lovely place for lunch, but we judged the anchor to be not set well enough to stay the night so we continued on to the Pinkerton Islands.
The Pinkertons are a small group islands just off the Vancouver Island shore that have a number of small bays for anchoring. Each bay is just large enough to handle one or two boats. Another boat came into our bay and anchored, so we kayaked over to say hello. They insisted we take a couple of pounds of fresh-caught prawns as they were running out of freezer space. We couldn't refuse. It was warm and sunny where we were but, looking in the direction of the ocean, we could see fog coming into the Sound.
We continued to explore the inlets deep into Barkley Sound, going into each one and looking around before heading to the next one. In the afternoon, we headed for the Broken Group, the large group of Islands in the middle of Barkley Sound that are part of Pacific Rim National Park, and anchored in Joe's Bay near the center of the group. The only occupants were a group of kayakers at an established campsite on the shore. The ocean fog was thin and wispy here but enough to temper the sunshine. We could see why August here is called "Fogust."
Our time was coming to an end. We had dawdled up north, and Barkley Sound is large with much exploration potential, so we had to leave most of the nooks and crannies for a future visit. But this was part of the plan, to avoid time and deadline pressures on the cruise. Luckily, Barkley Sound is close enough to Seattle that we can come back directly from the south, without having to make the long journey around Cape Scott. We made our way to Bamfield, at the southern entrance to Barkley Sound, which would be our jumping off point for the journey back home through the Strait of Juan de Fuca.
We arose in the dark and left our anchorage in Bamfield Inlet at dawn, along with the fishing boats, and motored out into dense fog, dodging crab buoys for the first hour, which was very nerve racking. Navigating by chartplotter and radar, we avoided the blips of deep drafts and small fishing boats, none to actually be seen. The fog suddenly parted just outside of Sooke, near Victoria, and we were instantly greeted by a lone killer whale passing us right off our bow.
Our planned 8-week trip to the west coast of Vancouver Island could have taken at least 12, and we'd left much unseen. Our GPS log read 1,156 miles, and the worst seas we encountered were on the first day in Rosario Strait. I never did get seasick. We met fascinating people and visited enchanting villages. The west coast is not actually as remote as some other cruising regions of British Columbia; but compared with our experiences in those other regions, there were very few cruising boats and we had many anchorages all to ourselves. We definitely need to return.
For years, we dreamed and prepared for this journey, and certainly other cruisers will want to be sure they and their vessels are ready for the rugged west side of Vancouver Island. But once you are, you can be assured of extraordinary surroundings and a most memorable adventure.
Postscript
A month after this trip, having weathered 24/7 togetherness for two months, Karen and Michael were married in Seattle.
Michaeland Karen have been cruising the Salish Sea and beyond for more than 20 years, the last 11 aboard Mischief, a 40-foot Eagle pilothouse trawler. They're out cruising now — follow their journeys at www.mvmischief.com