Reflecting on a beloved Pacific Northwest sailor, friend, mentor, and co-founder of Swiftsure Yachts. Brad Baker will be missed by many who had the pleasure of knowing and sailing with him.
The crew at 48° North would like to send our sincere condolences to Brad's friends and family, and the family he helped cultivate at Swiftsure Yachts. We've included a few images of him here that graced the pages of 48° North over the years.
Brad was born and raised in the PNW, got his start in sailing as a sea scout, raced in numerous fleets, worked as a sailmaker and eventually as a yacht broker. Along with racing, he also cruised frequently around the Salish Sea and embarked on a 12,000 mile voyage to Mexico, the South Pacific, Hawaii and back with his wife P.J. and two sons Bryce and Austin. Brad was an accomplished navigator, winning five Navigator Awards while racing successfully in the Vic-Maui race. Above all else, though, Brad will be remembered as a friend to all and as a mentor to many sailors throughout the area.
Below is the remembrance post from Swiftsure Yachts:
It is with heavy hearts that we announce the passing of Swiftsure Yachts co-founder, colleague, sailor and friend, Brad Baker (1964-2022).
Brad passed away peacefully on Friday, September 30. He was diagnosed with glioblastoma, a rare form of brain cancer nearly four years ago. Fittingly, his last sail was just two days prior to his passing. Brad is survived by his wife P.J., and sons Bryce and Austin, and leaves behind an enduring legacy as a friend and mentor to many.
From his start in the sea scouts, to working as a sailmaker and eventually yacht broker, Brad's experiences in sailing and the business of sailing were wide ranging. The Vic-Maui Race was a stalwart on Brad's racing schedule, which he won multiple times, both on elapsed and corrected finishes, and collected five Navigator Awards along the way. He also embarked on a memorable 12,000-mile cruise with his family aboard their custom Perry-designed 48-foot ketch, Capaz, from Seattle to Mexico and the South Pacific.
To those who have sailed or raced with him, bought or sold a boat through him, or even just been a casual acquaintance, Brad will be deeply missed throughout the Pacific Northwest and beyond. Sail on, Brad.
---
I am very fortunate to have been able to call Brad Baker a friend, shipmate, mentor, and business partner. Over nearly 20 years, Brad and I spent a lot of time on the water together — two races to Hawaii, countless local races, deliveries all over the Pacific Northwest. You really get to know someone when you spend extended periods on a boat together. Brad was one of the best. Exceedingly competent, hilarious and fun to be around, and a great competitor but a friend to all. He was the same in business. It was a valuable and rewarding experience working with Brad and the Swiftsure Yachts team fresh out of college in my early 20s. 

Many of my best memories of Brad involve going fast on sailboats. In particular, ripping through Race Rocks on the J/145 Double Take during the 2015 Van Isle 360 race. There were big seas, big breeze, the sun was setting and the boat was fully lit up under spinnaker. What a ride! Led by Brad, it was a highly rewarding experience for all on board. There were many others. Brad was a master team builder and navigator and never stopped in his pursuit of keeping the boat moving faster. I was fortunate to sail with Brad many times after his cancer diagnosis. And though he was often unable to quickly articulate what he was thinking under normal circumstances, he was sharp as a tack in terms of tactics and sail trim. This was second nature to him. 

Brad always seized the opportunity to go sailing, including 10 races to Hawaii, and a Mexico and South Pacific cruise with his wife PJ and sons Bryce and Austin. He was an inspiration to many, including me, to go do it while you can. He will be greatly missed.

— Ryan Helling
---
I met Brad in 2001 while working for West Coast Yachts. In October of 2002, I was fired and Brad left WCY a few weeks later. We opened Swiftsure Yachts with a third partner, Scott Fuller, and worked as a team to provide seamless service to our boat buying and selling clients. This eventually allowed us to take time away from work to race and cruise, and we spent as much time on the water as possible. One weekend we piled our families and Opti's aboard Scott's Frers 64 Volcano and sailed to Port Madison on Bainbridge Island for the night.

Brad invited me to join Brian Duchin's Voodoo Child crew for two Vic-Maui programs; the first was aboard a J/130 where we finished second in the 2004. The second was on the race-winning Santa Cruz 52 in 2006. Brad was a fantastic navigator who reveled in all aspects of the race. With numerous Vic-Maui races under his belt, his comfort offshore was assuring to the rest of us. After violently broaching off the California coast on my watch, Brad struck his head up from the companionway and nonchalantly said "OK, it's time to peel to a smaller chute." He was always calm and collected whether sailing or negotiating a yacht sale. His competence was unquestionable despite his low-key manner.

Two months ago, Brad helped me deliver a Caliber 40 listing from Olympia to Lake Union.  Little did I know that this would be our last trip together. Brad steered us through the locks and into our Lake Union brokerage dock, wearing a smile on his face the entire time. He was a great business partner and shipmate. There's no one I'd rather be offshore with on a race boat when the going gets rough. I can't thank him enough for taking a chance with me 20 years ago to start Swiftsure Yachts — and especially for dragging me out of the office to join him on the race course.

— Pete McGonagle
---
By far one of my favorite memories with Brad was racing in the 2015 Van Isle 360 Race aboard Tom Huseby's J/145 Double Take. Brad invited me on for the entire two-plus-week event as the boat's mainsail trimmer, relief helmsman and first mate, and knowing Brad as a friend and fellow sailor, I was sure it would be immensely fun and rewarding on every level. What I didn't expect was how much I'd learn from Brad and how much of a mentor he would become throughout the race and beyond. 

Aboard racing boats, decisions on tactics and sail changes don't often get discussed amongst the crew. But Brad included me and others in many of these decisions and explained the pros and cons in detail. Throughout the two weeks, we talked weather routing, starting strategy, sail configurations, and more, and by the final leg of the race from Victoria to Nanaimo, B.C., we were sitting just outside of the podium. Prior to the start off Victoria, Brad looked at me and said, "You good to call this one?" Without hesitation, I said yes, and I appreciated the confidence he had in me. We ended up leading the fleet off the line and into Haro Strait, which allowed our team to hang at the front of the pack heading north.  

Throughout that day and into the night, Brad and I kept a running dialogue on our position, made decisions together, and by early morning we crossed the finish line first for the leg. It was the only leg of the race that we won outright and it vaulted us into third place in our division for the regatta. Walking away, it almost felt like a win, but what stuck with me most was everything I had learned from Brad and the good times we'd had. He wasn't only a true friend, but an incredible mentor.  

— Andy Cross
---
Note: Images courtesy of P.J. Baker.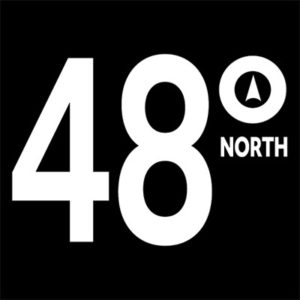 48° North Editors are committed to telling the best stories from the world of Pacific Northwest boating. We live and breathe this stuff, and share your passion for the boat life. Feel free to keep in touch with tips, stories, photos, and feedback at news@48north.com.