What PNW sailboat racer didn't feel Race Week's absence this year? The summer's pinnacle sailboat racing event will now take place in Anacortes in June 2021.
Planning anything in the age of Covid is like racing in the Puget Sound convergence zone — frustrating and variable, to be sure, but when one breeze dissipates, another will fill in from a new direction. With high hopes and big plans, Race Week 2020 was to be the start of a new era thanks to a venue change and expanded race offerings. Yet in numerous ways and for various reasons, the breeze blowing Race Week to Point Roberts has shifted. After considering various worthy venue alternatives, Anacortes is the belle of the ball and will be home to Race Week in 2021.
Participants should make note of the earlier date (late June instead of mid-July). Anacortes has a lot going for it, and we're excited. Fun and intriguing race course options promise variety and possibilities for concurrent race management of buoy, distance, and cruising class courses. And whether or not Race Week's flagship post-race parties are possible, Anacortes has walkable amenities that offer ideal complements or contingency plans. The choice to hold Race Week in Anacortes gives us confidence that there will be a Race Week event in 2021!
Here's the full announcement from the good folks that bring you Race Week:
Whidbey Island Race Week LLC, the organizing authority of Whidbey Island Race Week and Point Roberts Race Week announces a new venue beginning in 2021: Anacortes, Washington. Anacortes is located on the north end of Fidalgo Island in Washington State, and will be the new venue for the 5-day sailboat racing event beginning in 2021. The dates will be June 21-25, 2021 and the event will take place from the Port of Anacortes Cap Sante Marina. 
"The Port of Anacortes is excited about hosting Race Week in 2021 at Cap Sante Marina! Race Week has nearly four decades of history in our area as Whidbey Island Race Week, and this partnership offers strong support for our local economy, while highlighting what a great boating community we have in Anacortes. On behalf of the entire commission, I welcome you to Anacortes." Ken Goodwin, Port Commissioner, Port of Anacortes.
"During these unusual and challenging times, we are thrilled to bring another great event to Cap Sante Marina. We are committed to safely providing the venue for a world-class regional sailing event. Race Week will spur our local economy and further defines the maritime excellence of our community." said Dan Worra, Executive Director, Port of Anacortes.
What happened to Point Roberts?
In March of 2019, it was announced that the event would change venues to Point Roberts, Washington beginning in  2020, after a 37-year run in Oak Harbor on Whidbey Island, Washington. A title sponsor was procured through the Point Roberts Marina, owned by Chen Yihong, of DX Sport (China Dongxiang Group Co., Ltd), who signed a 3-year Title Sponsorship contract. Whidbey Island Race Week was rebranded as Point Roberts Race Week, and an active advertising and marketing campaign went into effect that included the production of a promotional video to build fleet interest. Point Roberts Race Week 2020 was set to host the 6 Metre North American Championships, and the Corsair Nationals. 
Additionally, it was chosen to present the coveted Pacific Coast Yachting Association's Jesse L. Carr Perpetual Captain and Crew Trophy at the event which was due to take place July 13-17, 2020.  
But in March 2020, the COVID-19 global pandemic hit, and Point Roberts Race Week had to be cancelled as did most big events around the world. Border closures combined with social distancing mandates enacted by federal, state, and local governments prevented the event from taking place. Point Roberts is an enclave located in Washington state, but to get there from the USA, requires two border crossings and the borders have been closed since April 2020, and are still closed to this day.
Following the cancellation of the 2020 event, the ownership of the Point Roberts Marina made the decision to not honor the 3-year Title Sponsorship contract terms that had been signed in 2019, and consequently, a contract dissolvement ensued. Once this legal process was complete, Whidbey Island Race Week LLC began the search for a new venue for the  event. 
Race Week's new home: Anacortes, Washington 
The 2021 event will be rebranded "Race Week Pacific Northwest" until a new title sponsor is found. Sponsor procurement for Race Week PNW will begin immediately, with a sponsorship terms that deliver exposure from January 1 through June 30 each year. 
"Anacortes offers excellent racing areas, ample guest moorage in the Cap Sante Marina to accommodate the fleet, and  shoreside amenities, including restaurants, grocery stores, and an RV campground all within walking distance from the  marina," explains Event Producer Schelleen Rathkopf. "We are really looking forward to bringing new business revenue to the city, and getting to know the entire community of Anacortes."  
The Race Management Team includes Schelleen Rathkopf, Event Producer, John Abel, Principal Race Officer, Paul Evenden, Race Officer, and Jared Hickman, Chief Judge. The regatta is currently open to keelboats and multihulls 19'+ racing PHRF, ORC, or in a (NFS) Cruising Class, but a dinghy component may be considered.
COVID-19
Race Week will work with the Port of Anacortes to be in full compliance with any national, state, or city COVID-19 requirements and social distancing mandates that are in place in the summer of 2021 to prevent the spread of the virus. "We're confident that we can achieve COVID-19 safety requirements on the water while racing, and on the docks at the end of each race day," adds Rathkopf. "We are going to wait to make any decisions about post-race festivities, and the inclusion of the popular Kids Camp program until next spring, when we're closer to the event and have a handle on what reopening phase the state and county are in." 
Event Registration 
Race Week 2021 registration will open on January 1, 2021 and registration details, including the Notice of Race (NOR) will be found on the Race Week website RaceWeekPNW.com. Event participants will make their guest moorage and RV camping arrangements directly with the Cap Sante Harbormaster's office, operated by the Port of Anacortes.
Note: All images are courtesy of Jan Anderson.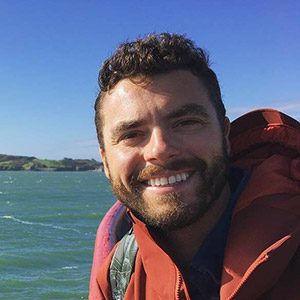 Joe Cline has been the Managing Editor of 48° North since 2014. From his career to his volunteer leadership in the marine industry, from racing sailboats large and small to his discovery of Pacific Northwest cruising —Joe is as sail-smitten as they come. Joe and his wife, Kaylin, welcomed a baby girl to their family in December 2021, and he is enjoying fatherhood while still finding time to sail, make music, and tip back a tasty IPA every now and again.