From the July 2015 issue of 48° North by Joe Cline
I'm not exaggerating when I say this: With the exception of the foiling boats and close racing of the San Francisco America's Cup, I believe the Race to Alaska (R2AK) is the coolest thing that's happened in sailing since I've worked in the industry. It's done something that almost nothing in sailing manages to do – it's captured the attention of non-sailors, and crossed the often divisive lines drawn in the sailing world. It's inspiring to racers, it's engaging to cruisers, it's drawn the eyeballs and Facebook clicks of big boat sailors, dinghy sailors, wooden boat enthusiasts, passage makers, Olympians, and average Joes. R2AK drew a few boats from out of the area, but thousands of fans from around the country and beyond. The idea was spawned in one of our bars, and it's happening on our waters. But, it's much bigger than that now.
I wanted to start with that – an acknowledgment of the surprising and enormous success of this event. It's a testament to a good idea that's been very well executed by the team at Port Townsend's Northwest Maritime Center. The courageous men and women who have set sail in small boats on a great journey, and pointed their compass needles to "N" towards cold, rugged waters have become our inspirations, heroes, and friends. R2AK's success is assurance that the spirit of adventure burns in people from all walks of life, and that traveling our waters in a little boat fans the flame.
At the time of this writing, there are still 16 teams on the course. Three teams have finished. Nearly half the boats that set out from Port Townsend for Ketchikan have had to withdraw. The challenge has been undeniable, particularly because of the weather Neptune hurled at the R2AK racers. With so many teams still racing, there are still chapters to be written. I extend my heartfelt congratulations to the finishers, my respect and admiration to those who've had to retire, and my sincere wish for safe passage to those who are still sailing north.
The Scene in Port Townsend
The indications that this was a different sort of race were immediately evident in Port Townsend. The whole 48° North team hopped on a ferry to be a part of the shenanigans. We helped host a lamb roast for the racers, giving us a chance to get to know many of the teams, and to clink keg cups of donated Fremont Brewery beer, to a safe trip. The people that came out of the woodwork for this event have an extraordinarily broad background. Some specialized in sailing, other in paddling or rowing, all were adventurers to their core.
Seeing their boats was eye-opening. You're going to take THAT outside the breakwater, let alone to Ketchikan? I would say that nobody raised eyebrows more than the gregarious pair on Team Mau, Phil Wampold and Joanna Ludlow. Their 18' Nacra 570 beach catamaran looked fast, sure. But it didn't have any storage. Like, none. They had built a small, collapsible dodger, and everything they needed for the entire trip was to be in dry bags strapped to the trampoline. You must be planning to stop each night to camp. NO?! How are you going to cook? Oh, you're subsisting on your sponsor's just-add-water nutritional powder?! It was then that Joanna, who has an extensive wilderness background but has only been sailing for a few months, told me about Type II fun. I hadn't heard of this before. She explained, "this is the kind of fun that leaves you saying, "That was AWESOME!" after it's over, even if it might be miserable when you're in the middle of it."
Team Mau's Nacra wasn't the only intriguing, or slightly concerning boat. There was the foiling 17' Windrider Rave, there were several outrigger kayaks and triaks with some really questionable-looking sailing rigs, and there were essentially untested new designs like the shunting Bieker Proa and the Turn Point 24 catamaran. Ingenuity and innovation were on display all over the place, some of it hearkening to traditional designs, others breaking new ground. Thomas Nielsen, the captain of Team Sea Runners, who were featured in our R2AK article in the February 2015 48° North, described their approach as the "hipster version of sailing." They used all sorts of found materials, and their sail was an $18 yellow tarp from a farm supply store. And in this race, that kind of thing is at the heart of it, and is very, very cool. Hipster cool. R2AK cool.
Because no engines are allowed, teams approached the human-power element of the race each in their own way. There were many pedal-driven propellers, as well as a variety of rowing solutions with homemade sliding seats or hand-lashed oarlocks. The thought was that human power was going to play a huge role in the race, as the Inside Passage can be very light at this time of year. That, of course didn't turn out to be the case, at least for the first week of the race.
The most exciting part about the scene in Port Townsend, however, were the folks that weren't there to race. People converged on Port Townsend from all over the area. A raucous crowd of over 1,000 attended the Pre-race Ruckus the night before Leg 1, ogling the boats and meeting the competitors. The atmosphere was electric. Media was everywhere. Even more impressive than the pre-race event, was the traffic jam at 4:30am for all the people trying to get in to see the start. Better than 500 hollering fans stood bleary-eyed at the 5:30am start, cheering as the boats left the dock and sailed, pedaled, or rowed out to the start line. I've never been a part of a race start that had any fans. And here, before the sun was even up, were hundreds of supporters.
The enthusiasm from fans and enthusiasts has only broadened. Twice now, the race's tracker page has been overwhelmed by traffic. It wasn't ideal, and we had to see the winners come into Ketchikan via the harbor's web-cams. But, it represents an amazing amount of interest. In fact, reports are that it was 10+ times the traffic the same tracker page gets for Swiftsure.
Everybody's a Winner
I've spent a lot of time in the last couple of weeks pondering what exactly it is that has been so captivating to so many people, and especially why the momentum has carried on after Team Elsie Piddock won the race in convincing fashion. This is important to me, because replicating the successes could be huge for the sailing community at large.
The biggest thing I've come up with is that R2AK has the unique condition where racing success takes many forms. I'm not aware of another boat race where there's so much pride to be taken in finishing. It's like a marathon. Have you ever encountered a marathoner who felt like a failure because they didn't win. They accomplished something great.
That's the distinction between R2AK and a lot of sailboat racing. While many "normal" racers might be out there to have a good time, there is generally a great emphasis placed on winning. And, the alternative to winning, in most races, is losing, which has an element of failure.
In the R2AK, the alternative to winning is finishing. There's no element of failure in this. Like the marathon, if you set out to finish and actually finish…massive success! If you set out to finish and aren't able to, the challenge you set for yourself was great enough that the vast majority of your competitors aren't competing against you. They'll support you. Because you accepted the challenge, you're a winner.  – 48°N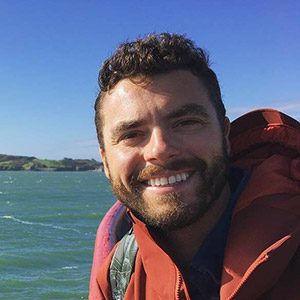 Joe Cline has been the Managing Editor of 48° North since 2014. From his career to his volunteer leadership in the marine industry, from racing sailboats large and small to his discovery of Pacific Northwest cruising —Joe is as sail-smitten as they come. Joe and his wife, Kaylin, welcomed a baby girl to their family in December 2021, and he is enjoying fatherhood while still finding time to sail, make music, and tip back a tasty IPA every now and again.