Take a Trip Back in Time to Last Year's 48° North Cruising Rally (formerly called the Cascadia Cruising Rally)
It's natural to hop in the time machine right now—fly off to carefree days of travel, exploration, and ever-strengthening friendships forged during shared adventures. It's natural, worthwhile, and dang it…it's fun! One such experience for me is the 48° North Cruising Rally (re-named after a few years of being called the Cascadia Cruising Rally).
Highlights abound from each year that this varied group of new friends from around the 48° North community has headed for the islands together. Yet, since an enthusiastic recap already exists for the 2018 edition, I wanted to take the trip back to the 2019 rally—to brighten my day, and hopefully yours. The 2020 rally is still on the books for now (August 1-8, 2020), though the notion of certainty presently feels complicated to say the least.
The 2019 rally drew participating boats from south, central, and north Puget Sound. We met in Anacortes, and enjoyed a warm welcome dinner hosted and provided by rally sponsors Ullman Sails at their Anacortes loft (new owners of all West Coast Ullamn lofts, Chuck Skewes and Sabine Suessmann, have been our partners and sponsors for each rally, and Chuck is responsible for coming up with the idea in the first place). With several returning boats, it was as much reunion as it was get-to-know-you party. The welcome event was a blast, with everything from pizza to ladder ball, but everybody was keen to turn in early to be ready for a tide-influenced early morning.
Departure Day
We woke near dawn on departure day after a restful night at Cap Sante Marina. The goal was to be off the dock before 8:00 AM, if possible, to make a few miles before the heaviest part of the ebb began pushing us south and east, slowing our northwest progress toward our eventual destination of Echo Bay on Sucia Island.
Whereas our first day of the 2018 rally brought a foggy follow-the-leader-with-radar crossing of Rosario Strait, day one of 2019 was blissfully sunny and windy, right off the bat. I was sailing with my pal and Ullman Sailmaker, Vince Townrow, on the J/105 he looks after. As we motored around the east side of Guemes Island, the northerly filled in and we set sails after less than a half hour under the "iron genny." Trimming hard on the wind, we enjoyed the building breeze, appreciative of how great our performance-oriented ride felt upwind, shorthanded, with no weight on the rail.
Enjoying the Midday Breeze
The breeze edged slightly west of north as we made our way toward Lummi Island. It also strengthened, funneling from Georgia Strait between Lawrence Point on Orcas and the bluffy western shore of Lummi. We rode those northwesterly lifts on port tack as long as we could, knowing we were pleasure sailing, but not able to ignore our respective racing backgrounds and thinking about how to get the best out of the boat. Vince and I agreed, this was one of the best days of sailing either one of us could remember.
We did a couple of short tacks near Lummi Rocks before settling in for a long starboard beat out toward The Sisters and Clark Island. We passed our single-handed rally cohort, Peter on his Saga 35 Engadine, on the north edge of Matia as the wind slowly decreased in the afternoon heat. Lightening breeze allowed a few pesky flies to find us and we slowly swatted at them as the VHF crackled to life. "Cascadia Cruising Rally, Cascadia Cruising Rally, Cascadia Cruising Rally, this is Blackbird. We've dropped a hook with plenty of room around us off the northwest tip of South Finger Island in Echo Bay. Come on in, and let us know if you want to raft-up!"
Beautiful Echo Bay
Now, anyone who cruises the islands is probably already familiar with Sucia. Echo Bay gets a lot of the glory, and deservedly so, but we did consider the other options. I was intrigued by Ewing Cove (where I have not been before), but we decided our seven boats would overwhelm the bay, even if we found it vacant. We figured (incorrectly, as it turned out) that Fossil Bay would be a madhouse on an August weekend. And with two boats that drew more than 7 feet as well as a -1.5-foot tide predicted for the next day, Shallow Bay and Fox Cove presented depth challenges. So, Echo Bay was the choice.
The thing I love about Echo Bay is that, while it is almost always crowded in the summer. It seldom feels that way. The expansive anchorage allows folks to spread out. Maybe it's just me, but I've always felt that another aspect of this perception is the visual draw of Mount Baker—a monolith visible through the mouth of the bay to the northeast—which is almost always on grand display in August. Having the scenic highlight outside the bay allows visitors to focus on something far away and to look at something other than the scores of anchored boats in most other directions.
Rafting Up
We sailed our J/105 in as far as we dared, even slaloming between a few anchored boats, before starting the engine for the first time since the morning and dropping sail. We joined the raft-up with two others who were already there: our Rally headquarters boat, the CS 40 Blackbird; and the J/120, Felicita. A third rally boat anchored out on their own nearby. Over the next hour, the remaining boats trickled in, and two others joined the raft-up.
Though the breeze waned, our raft-up started to drag in the lingering northwesterly not long after the fifth and final boat joined. We caught it with plenty of time and minimal anxiety. We drove forward, resetting the central anchor and adding a second, and held fast this time.
Settling In
As we got sorted for our two-night stay and some others headed out to drop crab pots or paddle a kayak, sailors from several boats jumped into action preparing the evening's potluck. With first-day provisions, we had quite a spread. Sabine's famous Dark & Stormies (quickly named the official rally cocktail in 2018) made their first rally appearance of 2019, as the setting sun illuminated Mount Baker on the distant horizon.
We all breathed the kind of deep breath that is unique to your first night of many out cruising. Any wind was now gone, and there was perfect stillness by the time we laid our heads on our pillows. Tomorrow, we would spend the day exploring this exquisite Jewel of the San Juans.
For more information about this year's rally, or to sign up, visit our 48° North Rally Page.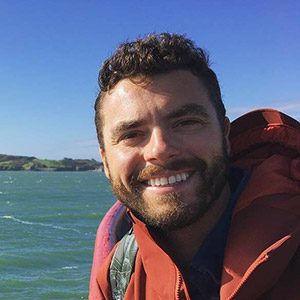 Joe Cline has been the Managing Editor of 48° North since 2014. From his career to his volunteer leadership in the marine industry, from racing sailboats large and small to his discovery of Pacific Northwest cruising —Joe is as sail-smitten as they come. Joe and his wife, Kaylin, welcomed a baby girl to their family in December 2021, and he is enjoying fatherhood while still finding time to sail, make music, and tip back a tasty IPA every now and again.