Seattle Boat Show Connected Impresses, Offering Attendees a Curated Collection of Boating Businesses and Experts.
Over the last couple of months, the crew here at 48° North has heard and written quite a bit about Seattle Boat Show Connected — the virtual version of January's big Seattle Boat Show. We've given an overview, floated some tips for enjoying the show, and picked the seminars that particularly piqued our interest.
Well, with a kind of excitement that was a shade different from when the mysterious voice on the PA boomingly declares on a late January morning, "The Seattle Boat Show is now open!" I opened SeattleBoatShow.com on Thursday and logged in.
I've got to say, I was impressed. The user experience was solid and intuitive. I wandered the aisles on the virtual show floor, appreciating that it gave a genuine flavor of the in-person event. It felt good to see familiar business names congregating even as we can't. Clicking into an exhibitor's "Show Specials" revealed boats or products for sale, with product photos and sometimes video or virtual tours. If I had been in more of a shopping mood, I could have clicked into a chat or scheduled an appointment for an in-person showing. After a while, there were specific exhibitors I wanted to see, so I started using the search function, which worked great.
I clicked into and watched several seminar types, from the more accessible seminars like Bareboat Chartering Tips and Dungeness Crabbing Curriculum, to more in-depth Boat Show University presentations about Spring Maintenance and Docking and Anchoring Technique where high-quality pre-recorded presentations were complemented by live question and answer sessions with queries being fielded in real time by viewers via chat. I even clicked through to a Facebook Live boat tour. Each presentation made me appreciate the expertise on display. For newer boaters or those looking to broaden their experience, it could be invaluable.
Where the seminars educate, Boat Show TV on the homepage entertains. Hosts Peter Schrappen and Denise Whitaker engage with a series of guests and the conversation is fun and light-hearted, on wide-ranging boaty and boat-adjacent subject matter.
My main impression of this virtual show after checking it out throughout opening day is something that the in-person event delivers too: there's enormous value in the curated collection of boating information, resources, experts, and contacts you find in one place at the boat show. In some ways, it actually reminded me of what we do at 48° North year-round.
Seattle Boat Show Connected is an important and successful invitation to explore, learn, and interact with boating experts, enthusiasts, and the businesses that support on-the-water adventures in the Pacific Northwest. My personal perspective is that the traditional boat show is more of a sales-centric event that offers a chance to learn in some seminars. Seattle Boat Show Connected felt to me like it takes a longer view: it's really an extraordinarily rich set of educational presentations, where you might also buy a boat. If you ask me, it's all good.
Seattle Boat Show Connected runs from January 28-31, 2021, at www.seattleboatshow.com and tickets are still available ranging from $5-$89. It's also worth remembering that many exhibitors are running in-person viewings by appointment to check out their boats and products.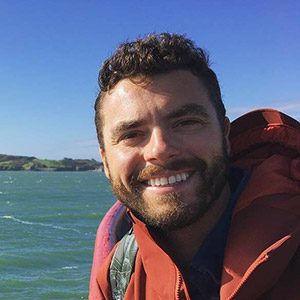 Joe Cline has been the Managing Editor of 48° North since 2014. From his career to his volunteer leadership in the marine industry, from racing sailboats large and small to his discovery of Pacific Northwest cruising —Joe is as sail-smitten as they come. Joe and his wife, Kaylin, welcomed a baby girl to their family in December 2021, and he is enjoying fatherhood while still finding time to sail, make music, and tip back a tasty IPA every now and again.