The topic of plastic pollution is not a new one. We all know it's a massive problem and social media abounds with articles and photos of beaches and sea creatures damaged by plastic waste. It's overwhelming. Despite having read such articles, taking a few positive steps to avoid plastics, and our habit of scooping balloons out of Puget Sound, we were unprepared for the reality and subsequent commitment we felt compelled to make after our recent journey. From Seattle to Alaska to Central America to the South Pacific, we have seen plastic debris in the water. When we visited the uninhabited islands of Ducie Atoll and Henderson Island, the absolute furthest islands from the mainland in the world, we found them littered with debris, nearly all of it plastic. Seeing sweet fluffy baby (endangered) sea birds nesting in plastic rubbish on gorgeous tropical islands that rarely have human visitors was heartwrenching. We felt frustrated, sad, and profoundly protective all at once.
Sailing from Pitcairn Island to Auckland, New Zealand on rhumbline is around 3,000 nautical miles. On our passage over this vast body of water we did not see a single other boat. We saw no dolphins or whales, and we didn't catch a fish. We saw only a handful of birds the whole way. The one thing we did see on this passage was plastic, floating by in the sea. Our dismay and disappointment with our observations throughout our 16,000 nautical mile journey made the plastic problem personal. We've made a commitment to make a difference, and we're not alone.
Sailors are leading the way to real change in the way we use plastic. The Volvo Ocean Race yachts arrived in Auckland in the wee hours of the 27th of February in a nail-biting finish to a 6,100 nautical mile Leg 6. The Volvo Ocean Race (VOR) is committed to "harnessing the power of sport for good." Team Vestas 11th Hour Racing is a Founding Principle Partner with the VOR to raise awareness about plastic pollution and promote sustainable practices. The "11th Hour" is a phrase that means the final moments that change is possible. That time is now. This is the message these sailors are taking around the globe as they race. The race village in Auckland exemplifies these principles with a strong focus on reducing single-use plastics and recycling. In early 2017, the United Nations Environment launched #CleanSeas with the aim of engaging individual citizens and governments in the eradication of marine plastic litter. Throughout the race, village visitors are encouraged to sign the pledge for Clean Seas. Water refill stations and recycle bins are prominently available, and the message is clear.
During the Volvo Ocean Race festivities, Volvo New Zealand sponsored a beach cleanup at the popular Takapuna beach in Auckland. (A side note about Volvo cars – they have plans to use reclaimed fishing nets for their floor mats and recycled plastic bottles for their carpets.) Sailors from Vestas 11th Hour Racing, AkzoNobel, Brunel, and Turn the Tide on Plastic teams showed up to help. The camaraderie was palpable, as was the commitment that comes with witnessing extensive plastic pollution around the world. It was here that I had an opportunity to chat with Dee Caffari and Bianca Cook from team Turn the Tide on Plastic. When I asked Dee, the skipper for Turn the Tide on Plastic and United Nations Clean Seas ambassador, to share the one message she would like to convey, she said, "When you look at the problem of plastics as a whole, it seems insurmountable, but if we work together, each person doing their part, it's possible to make significant change." She admitted it's not always easy to avoid plastic, while asserting that we need to do everything we can. At this, she paused to pick up another bit of rubbish from the beach and we continued to talk about ways to make a difference. Bianca is a New Zealand native who consistently promotes alternatives to single-use plastics at home and abroad and was the driving force behind the New Zealand Yacht Squadron's ban on plastic straws and bags. She spoke with passion about the powerful impact of sailing through the South Atlantic gyre and seeing it strewn with plastic debris and was present when the New Zealand government signed on to the UN Clean Seas campaign's pledge to rid the seas of plastic. This historic moment took place in the Volvo Ocean Race village in Auckland and was a powerful tribute to the sailors' message.
The message is getting through to businesses as well. Musto, the official gear supplier of the Volvo Ocean Race, was the first private business to sign the UN Clean Seas pledge. I met David "Ollie" Oliver, the CEO of Musto Australasia, at the Royal New Zealand Yacht Squadron. I commented on their "Bag for life" reusable shopping bags, which are made from recycled plastic and have the Clean Seas message and then shared my experience with plastic in the seas. During the passionate discussion that ensued, he proudly shared their success in reducing their use of plastic by 80%. Musto's commitment is on track to reduce their plastic use by over 11 tons (imagine, the equivalent of over 61,000 plastic bottles) in 2018. Further, they are sharing the message about plastics in the sea and sustainable practices – and they make great sailing gear! Another win for sailors!
As the Volvo Ocean Race competitors begin Leg 7 for Itajai, Brazil, they leave Auckland, and all of New Zealand, better off for having delivered their message for Clean Seas. It has been a tremendously inspiring time for a couple of Seattle voyagers who share the same passion for, and commitment to, the sea.
So, sailors, it's up to us. Yes, even in the environmentally progressive Pacific Northwest. Recycling is great, but we can do better. We encourage you to have a close look at your use of plastic and where you might find alternatives. We have done beach cleanups with every stop on our voyage. The top three things we pick up are straws, water bottles, and bags. Fortunately, these are easy to avoid with reusable shopping bags, your own water bottle, and switching to non-plastic straws (or not using them).
If you don't have one already, pick up a nice PNW coffee tumbler – just about every coffee shop sells them. Organize destination cruises featuring beach cleanups with other sailors. Host a pub crawl that includes collecting trash from the streets (before it ends up in the Salish Sea and beyond). Sign the UN Clean Seas pledge and take your commitment to the next level. Talk to people about how they can make a few changes. Use your dollars to support companies that are taking positive steps to reduce or recycle single-use plastic. Talk to your yacht clubs and community organizations about doing away with single-use plastic and straws for everyday use and for events.
What you do matters. With the sailing community leading the way, as both ambassadors and stewards of the sea, we can make a difference. It's the 11th hour, and it's time to turn the tide on plastics – for the future of our oceans and for all of us who depend on it.
Michele & Jon are currently living, working, and sailing in New Zealand. Check www.callalooblue.com/plasticfreeseas
for alternatives to single-use plastics and information about how you can help.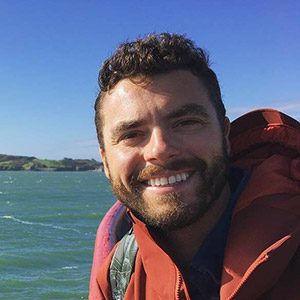 Joe Cline has been the Managing Editor of 48° North since 2014. From his career to his volunteer leadership in the marine industry, from racing sailboats large and small to his discovery of Pacific Northwest cruising —Joe is as sail-smitten as they come. Joe and his wife, Kaylin, welcomed a baby girl to their family in December 2021, and he is enjoying fatherhood while still finding time to sail, make music, and tip back a tasty IPA every now and again.